@SanteBelgique Aujourd'hui ils ont été mises à jour dans l'après-midi. Merci!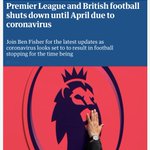 @FootballCliches If no mask available, the a hand will do: pic.twitter.com/P6bckzGqgF
Real life just moved online. See you on the other end!
@STrosterud The doctor has to come forward. Have him contact the media.

Working in isolation doesn't help.